Located in the Miami,
Sunny Isles Beach
is a beautiful city on Barrier Island and is among the top desirable places to live. The island used to host a collection of motels, but it's now home to about 22,000 local and international residents.

Sunny Isles Beach has a skyline of high-rise hotels, condominiums, and residential homes. The city's cultural diversity is evident in the variety of restaurants, cafes, and boutiques in the area, especially along the pristine beach and Collins Avenue strip.

Being a South Floridian mix of natural beauty and luxury, the city attracts a community looking for tranquility, fine dining, entertainment, and luxury shopping.

Here is a breakdown of why Sunny Isles is among the famous sought-after places to reside.
An Overview of Sunny Isles
Sunny Isles beach covers an area of 1.78 sq miles and is easy to get around on foot, such that residents prefer to walk or cycle when running errands. The city connects to the mainland via the 163rd Street Bridge and William Lehman Causeway.

Collins Avenue runs through the town's center, giving access to Miami Beach on the South and Hollywood Beach on the North. City residents can drive to Fort Lauderdale and Downtown Miami in less than an hour.
Traffic in South Florida can be notorious, but residents of Sunny Isles can use public transit to curb the traffic. There are free transport services using the
SIB shuttle
on the beach. Locals can visit North Miami Beach, Ventura, and Hallandale Beach on foot.
The Lifestyle and Culture of Sunny Isles
Let's find out what kind of lifestyle you can live in Sunny Isles.
Outdoor Activities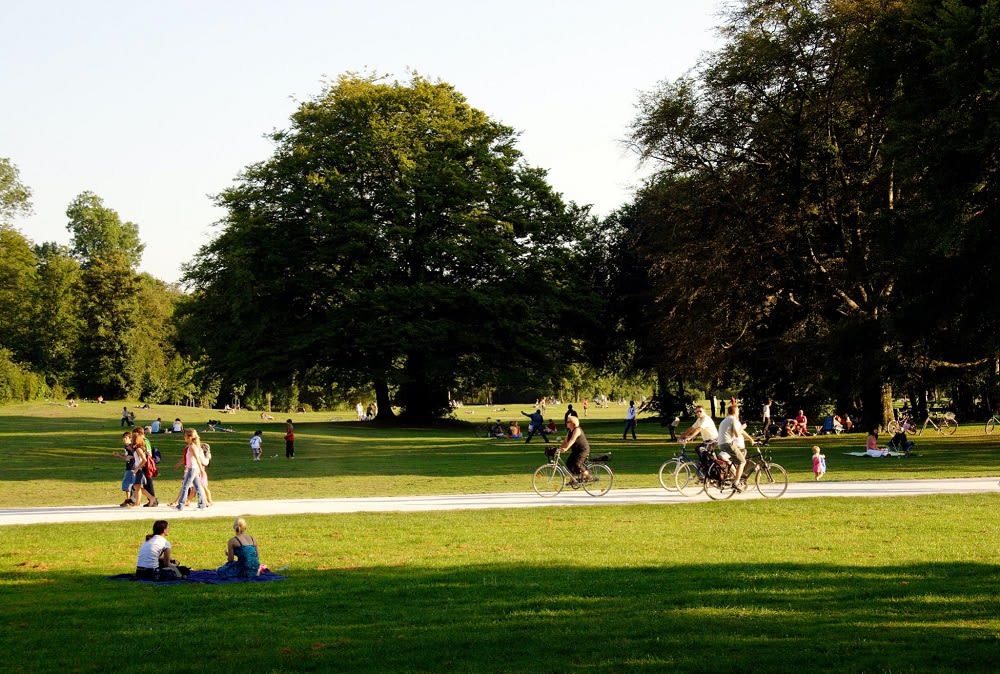 South Florida residents enjoy beautiful weather year-round, making an outdoor lifestyle workable among the residents. The sandy beach and aquamarine water are the center of attraction for outdoor enthusiasts, and residents enjoy many outdoor activities.

Sunny Isles Beach has multiple parks which offer beautiful public spaces for relaxation, exercise, and physical gatherings. Samson Oceanfront Park, for instance, is a popular park for picnics, playing with kids, and all-year-round entertainment. You can also visit the beach to watch volleyball games.

Dog lovers can also bring their pets to the beach. Heritage Park and Off-leash areas at Senator Gwen Margolis provide dog owners a friendly grounds for socialization and fun activities.
Dining Spots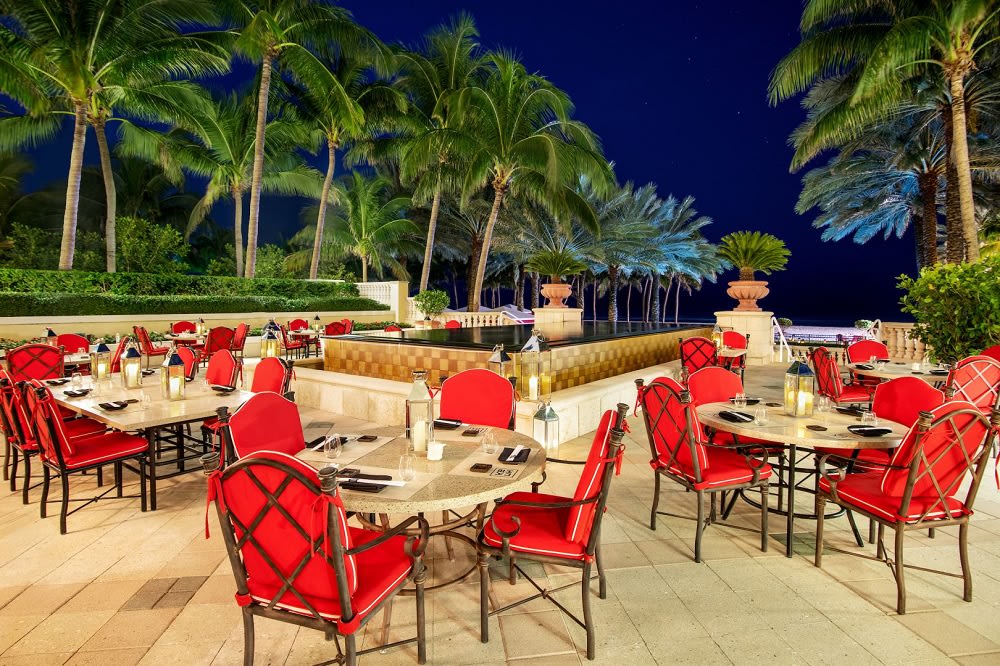 Photo Courtesy of Acqualina Resort

When it comes to dining spots, Sunny Isles Beach residents have a variety of choices. Collins Avenue is popular for amazing restaurants, bars, and local cafes. For an upscale dining experience, you can visit luxury resorts such as Acqualina Resort and Sole Miami.
Bal Harbour Shopping Mall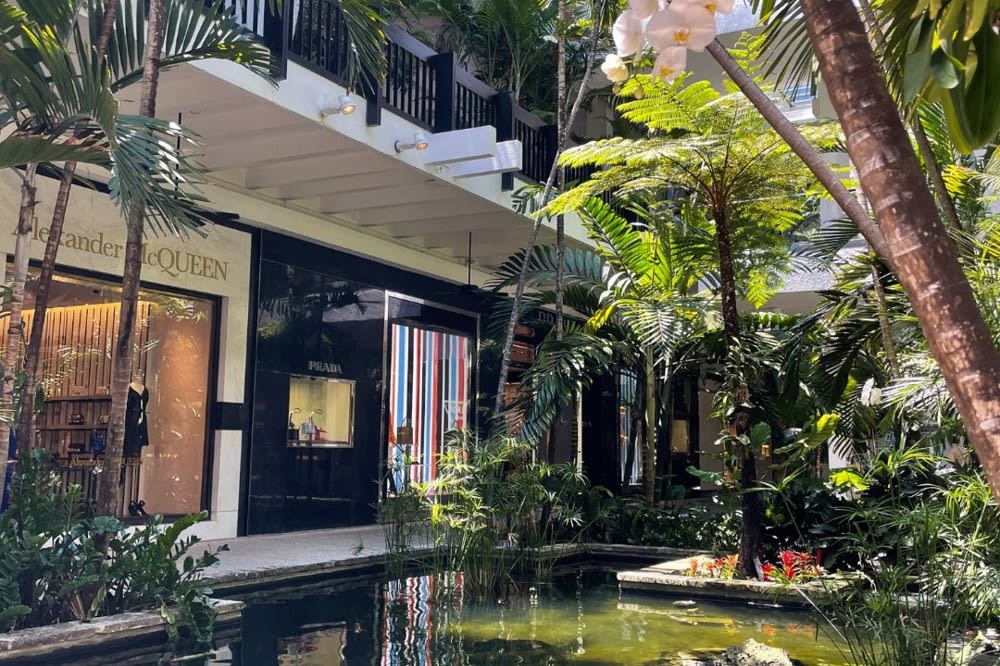 Photo Courtesy of Bal Harbour Shops

Bal Harbour is an outdoor shopping mall famous for its collection of designer boutiques and fine dining options. The beautiful landscaping featuring tropical flowers, trees, and tranquil pools creates a relaxing shopping experience. You can get various food items from the restaurants, including Japanese cuisine at Makoto and Italian classics at Carpaccio.

Shopping in Sunny Isles varies from small boutiques to famous retail outlets. If you're looking for exclusive shopping, you can visit Bal Harbour Shops, which contains high-end dining options. Aventura Mall is also close to Sunny Isles and thus is ideal for shopping lovers.
Events
Community is a big thing in Sunny Isles Beach, and there are events throughout the year. Some of the monthly events include the Wednesday Outdoor Concert Series at Samson Oceanfront Park, Full Moon Yoga at Gateway Park, and movie nights at Heritage Park. The annual events in the city include Art Basel,
Miami Fashion Week
, and the South Beach Food and Wine Festival.
Art and Culture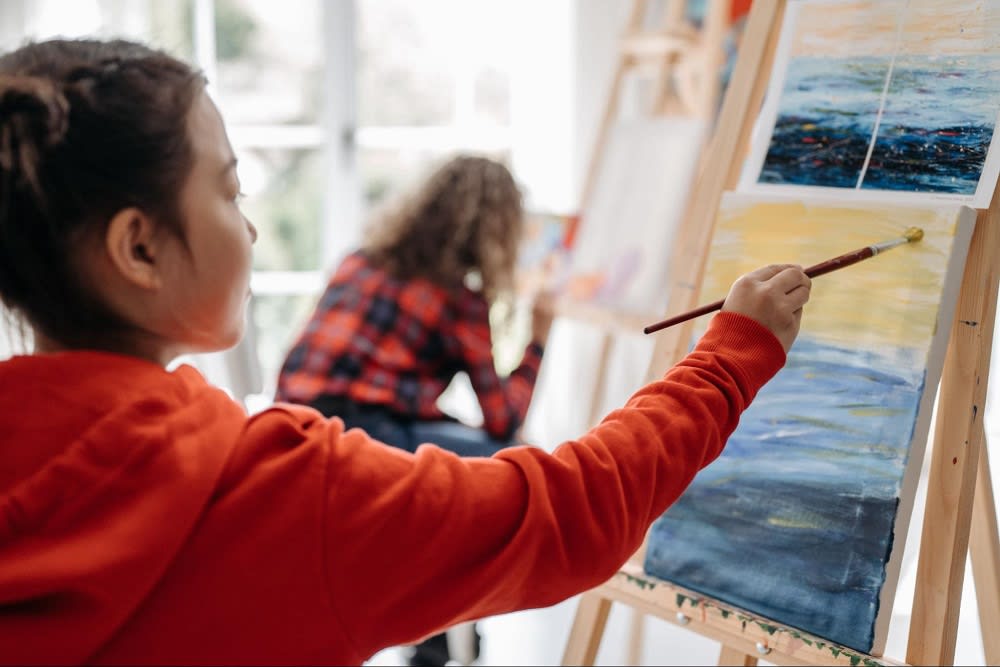 Sunny Isles' 2016 art in Public Places was a great success. The developers in the city include an element of art in their projects. Previous developers use this chance to improve prior projects and enhance the urban environment. Public art around the city includes Manolo Valdes sculpture and other sculptures on bridges and in parks.

The city has art and cultural institutions, including the Bass Museum of Art, North Beach Bandshell, and the Museum of Contemporary Art. From an indie-rock concert or a new exhibition to an art class, there is always an activity you can take part in the city's driveways.
Recreation Facilities and Parks in Sunny Isles
The famous recreational facilities and parks in Sunny Isles include:
Gateway Park
Located on Boulevard, Gateway Park sits on a 5-acre piece of land and features a kids' playground, gathering space, a performing arts stage, and a beautiful garden. The park has free Wi-Fi and a solar-powered charging station. You can sit and work while kids have fun. There are monthly events like the famous Full Moon Yoga that take place monthly and annually, where locals enjoy a free yoga session.
Oleta River State Park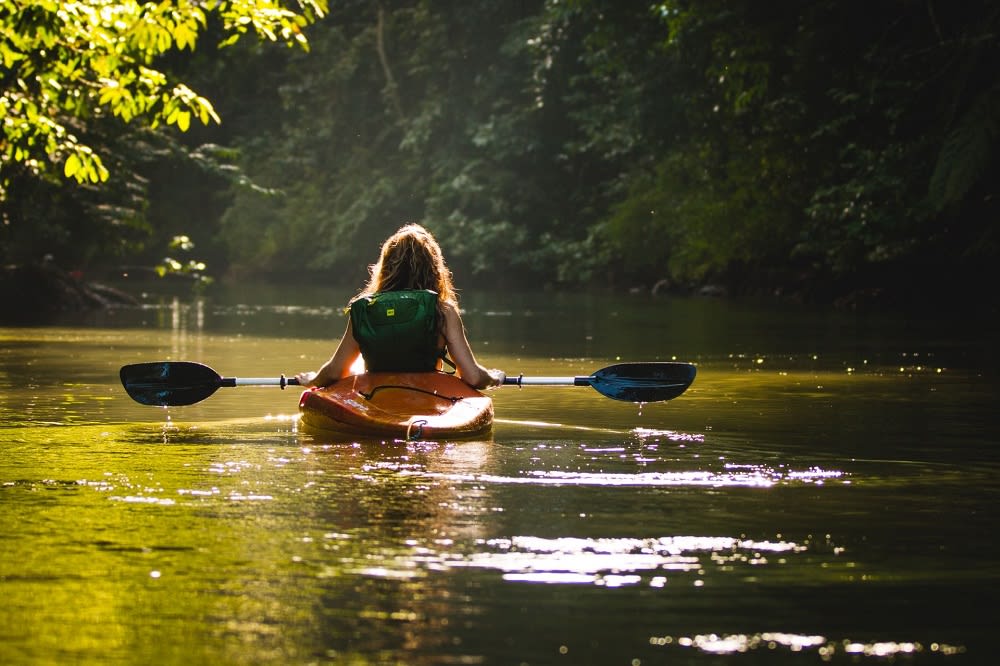 Being the largest urban park in Florida, Oleta River State Park is one of the must-visit places in Sunny Isles. The park sits on an estuary, covers about 1000 acres, and offers a delightful spot for hiking, swimming, camping, and kayaking. You can also explore this park through the nature trails in the park. The trails lead to a beach with tropical trees and flowers.

The park has a rustic campground and cabins for people to experience the park at night.
Samson Oceanfront Park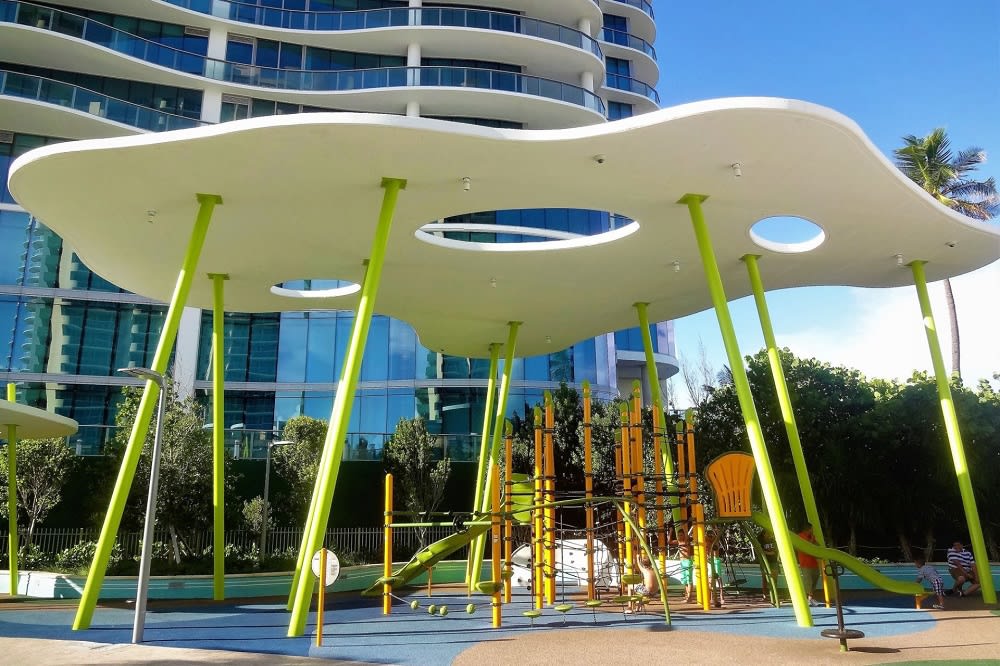 Photo Courtesy of Samson Oceanfront Park
Samson Oceanfront Park
is famous for its tropical flowers, palm trees, and public art. The park features a kids' play area, shaded pavilions, and a charging station. The public can access the beach with pristine sand and warm Atlantic Ocean waters.
Haulover Park
No other park pulls the crowds that Haulover Park, thanks to the extensive area it sits on. It's on a 177-acre piece of land, meaning that the choices of things you can do are endless. Haulover Park is a historical park that features sand dunes, pristine beaches, and picnic grounds. In addition, there is a fishing pier where people dock their diving and fishing boats.
Places to Have Fun in Sunny Isles
If you are looking for activities to engage in while in Sunny Isles, here are the top things:
Gulfstream Park Village
Located on Hallandale Beach, this is an open-air destination for dining, shopping, sporting events, and entertainment. Gulfstream Park Village offers kid-friendly and adult activities such as horse racing, fine dining, bowling, casinos, and nightclubbing.
Acqualina Spa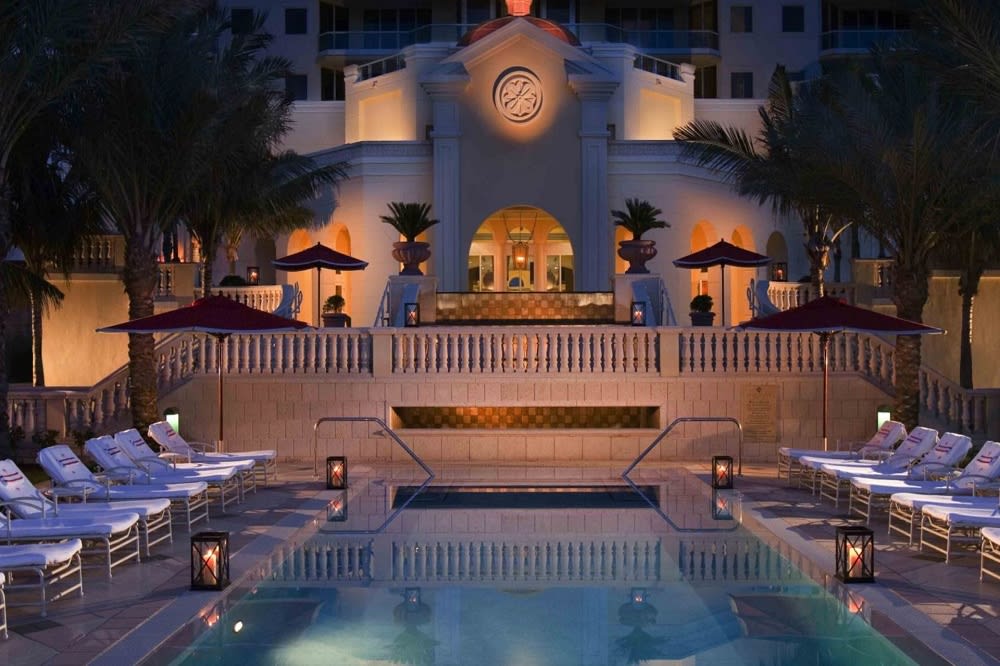 Photo Courtesy of Acqualina Resort

Sitting at a 20000 sq ft facility, Acqualina spa is the perfect go-to place when Sunny Isles residents need to relax and enjoy the pampering. The clients enjoy views of the ocean and sandy beaches as they relax and rejuvenate. The Sapa features relaxation lounges, state-of-the-art rooms, and an outdoor retreat pool. After the therapeutic body treatments, the guests enjoy yoga and meditation.
Real Estate in Sunny Isles
Real estate developers are moving away from crowded South Beach neighborhoods, and cities like Sunny Isles are gaining popularity for luxury living. The
real estate in Sunny Isles
consists major of upscale condos and single-family homes. Therefore, the classic real estate in this area is in high-rise towers along Collins Road. The top-notch real estate property in the city includes:
Jade Signature
Being a 57-story condo building, Jade Signature houses 192 units with different residence options. The houses range from 1 bedroom units to five-bedroom units and penthouses. The townhomes in Sunny Isles feature open floor plans with tall ceilings, servant quarters, and European-style kitchens. Amenities in this building include a fitness center, hot tub, pool, landscaping, and beachfront bar.
Armani Casa Residences
Armani Casa sits on a three-acre piece of land and is a 56-story building that contains 308 luxury residences. The residences feature spacious floor plans, private balconies, tall ceilings, climate control systems, and floor-to-ceiling windows. The amenities available include a cigar room, kids' room, movie theater, wine cellar, yoga studio, 24-hour valet service, and a private restaurant.
Regalia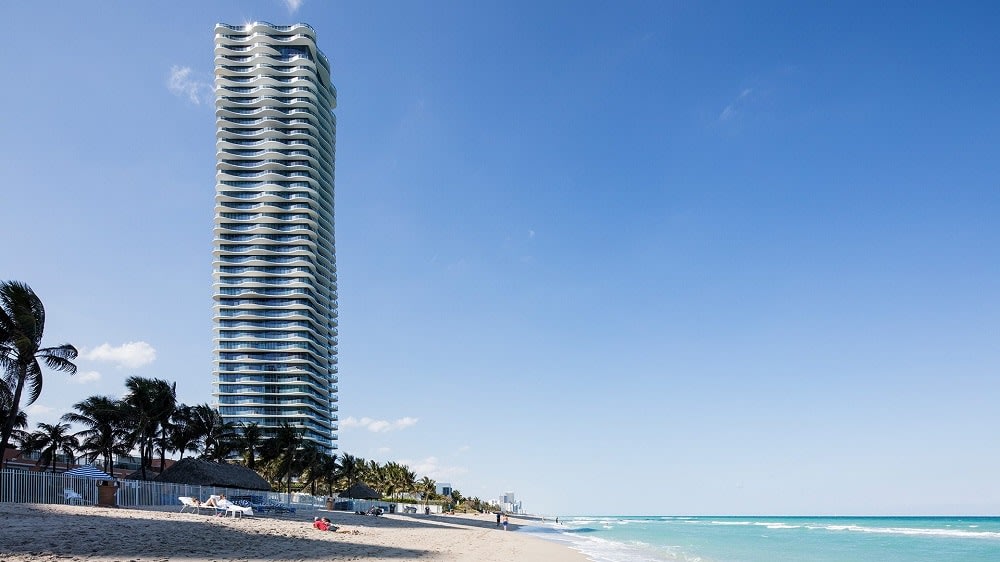 Photo courtesy of Regalia Residences

Regalia is a unique development sitting on a one-acre piece of land, and it contains 39 stories with one residence per floor. The residence has over 5,000 sq ft of indoor space and 2000 sq ft of outdoor space. The homes offer 360-degree views, floor-to-ceiling windows, and beautiful interiors. Indoor and outdoor spaces connect to provide an ultimate luxury living. There is a spa in the building offering state-of-the-art treatment rooms, a sauna, and a fitness facility.
Ritz-Carlton
Located on Sunny Isles Beach, Ritz Carlton is a 52-story tower housing 212 residences and penthouses. The residences feature spacious floor plans with oceanic views, tall ceilings, and private elevators.

The Italian-designed kitchens feature appliances such as cappuccino makers and wine coolers. The 2-story lobby contains glass to offer vast beach and pool views.
Begin your search for Sunny Isles luxury homes
If you need an expert to help you settle down or find a place to move into Sunny Isles,
contact us today
. We can help you settle down fast in a luxurious home with the best views across the city.